I think you know what this means. I think we all know what this means. This is gonna be an October like you've never seen.
Sew
Well shit, we did it again! Here's the cover for this years SYSOAB.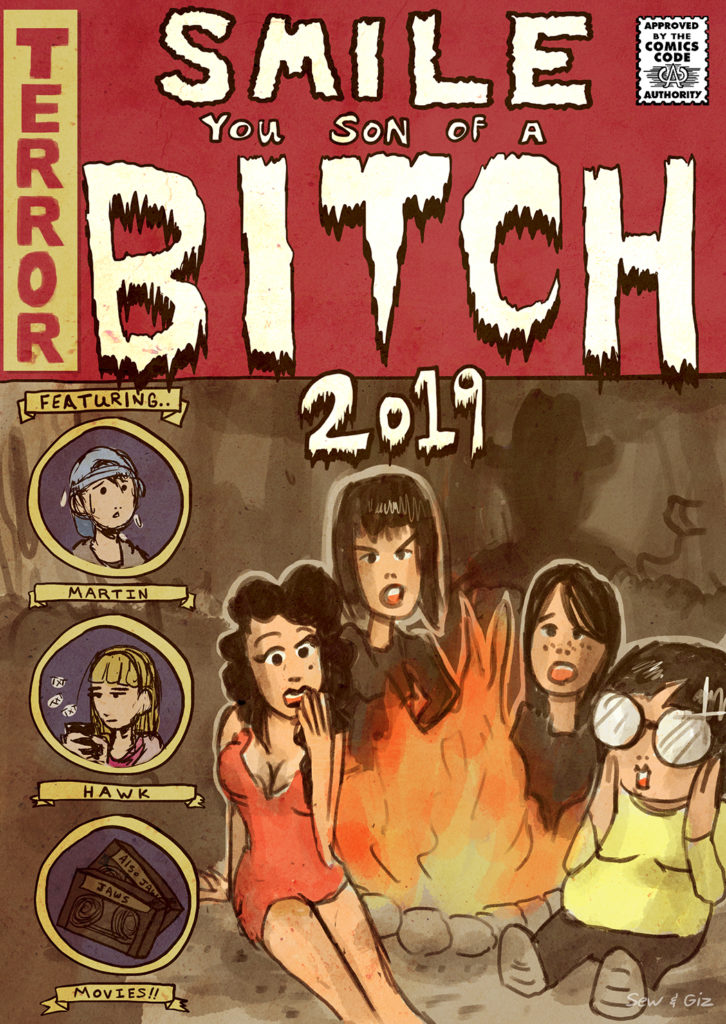 Like last year and the year before it, a new comic page every day just one minute after midnight, Sew-Central time.
As an art note, I live in this notion of "fix it in post" even when not explicitly. I always seem to assume that I'm going to have more time to finish A Thing later when a deadline isn't present. But I don't, and every picture or painting seems to have an invisible deadline where I lose interest in refining it again to make it what I think 'it should look like'. This is where I either call the picture finished, or save it with a '_WIP' thrown on the end and share it, effectively making it a finished piece.
This is bad, or it feels bad.
I've taken steps and identified the problem. Smile this year is 'rough sketch -> rough ink'. I'm not sure why I always feel the need to turn my decent looking sketching into terrible inked layers that I then re-ink several times and loose all of my… well, my Me. I think it shows when compared to last years comics, and fun fact, each page took less time to make than last year.
Sew
Sew
Get 'em! New Halloween was a lot of fun.
And we got SMILE YOU SON OF A BITCH goin' on
Sew
Gizcomic presents:
Since we're not getting full Monster Madness this year, we decided to try and help fill the void. We hope our offerings help.
New comic every day in October!
Sew
Forgot about this one! From Oct. 2016.
Sew